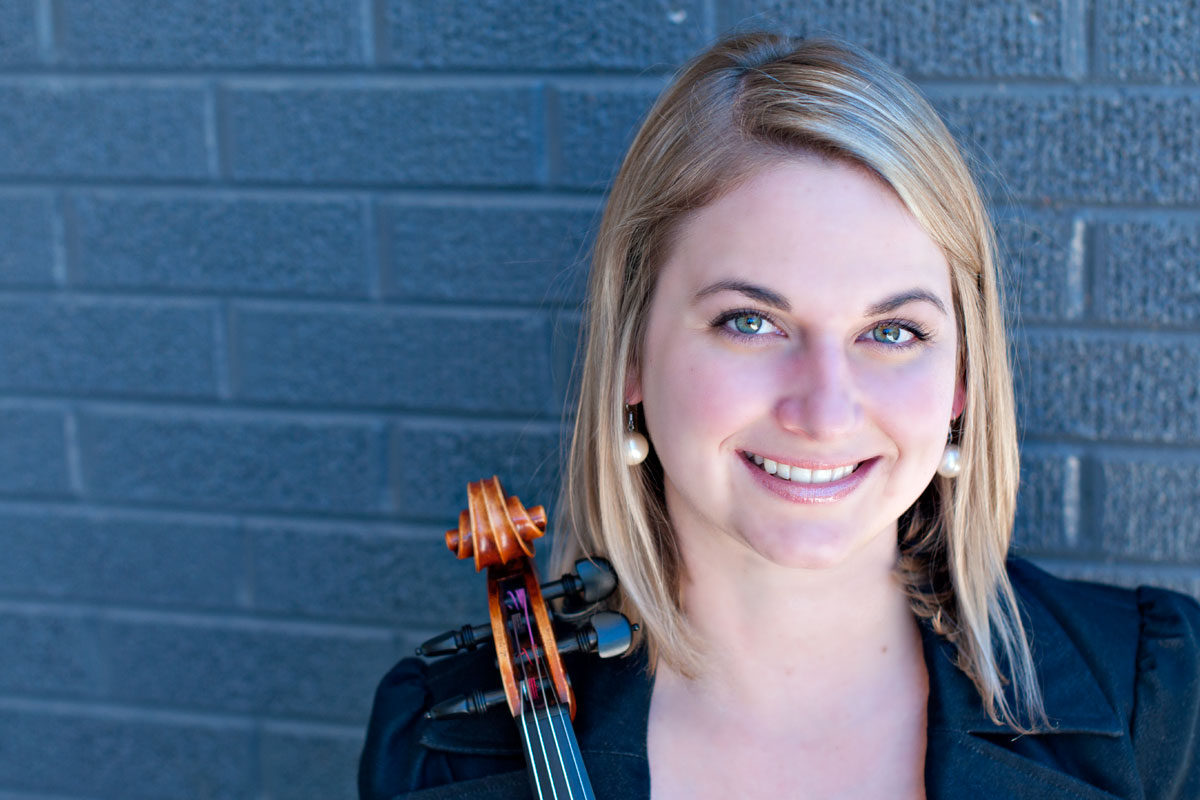 Stephanie Mientka, CO-Artistic Director
Ms. Mientka began studying music at age 5 with lessons on piano and violin, and started viola at age 13. Both of her parents were touring classical artists, and she spent much of her youth on tour with her family. From a young age Ms. Mientka was an active performer, and in 2006 won first prize in theSymphony of the Valley Concerto Competition in Glenwood Springs, Colorado. In the same year she won first prize in the Rocky Ridge Music Center Concerto Competition. She performed concertos in Aspen, Glenwood Springs, and Estes Park, Colorado.
Ms. Mientka holds a bachelor's degree from the University of Colorado at Boulder,and a master's degree from Rice University in Houston, TX. She was also awarded full merit scholarships for both degrees. Her principal viola teachers are Erika Eckert, Geraldine Walther, and Ivo-Jan van der Werff. As an active orchestral musician, Ms. Mientka isa member of the Boulder Philharmonic, and held the position of associate principal viola with Colorado Springs Philharmonic during 2014 – 2015 season. She is also a regular substitute for Colorado Symphony, and has performed with Shreveport Symphony in Louisiana and Mercury Baroque orchestra in Houston. Summer festivals include Aspen Music Festival, National Repertory Orchestra, Idyllwild Summer Music Festival, and several notable master-classes in Germany and Italy. Ms. Mientka is also an active chamber musician, and a founding member of the Deciduous Trio (flute,viola, harp), which performs regularly in Texas and Colorado. In 2006 she became a member of the crossover Celtic band FEAST. Besides numerous concerts in Colorado,the band has twice toured Germany and the USA. PBS filmed two of the band's spectacular Irish shows, and the resulting films have been broadcast on television and submitted for both an Emmy and a Grammy. Ms. Mientka is currently Artistic Director of the Western Slope Concert Series in Grand Junction.
Kathryn Mientka, Co-Artistic Director
Kathryn Mientka performed internationally to critical acclaim as the pianist in the Mientka Duo, which her late husband, Tyme Mientka co-founded in 1983. The Duo gave concerts in Germany, France, Italy, Switzerland, and the USA, where they were featured nationally on radio and television. Their debut at the National Gallery of Art in Washington D.C. was received with an enthusiastic standing ovation. They also were featured numerous times on National Public Radio's Performance Today and on PBS television. The Mientka Duo was the recipient of many honors and awards, including a special prize at the Concours International de Musique de Chambre in Paris. Kathryn holds a Masters Degree in Music Performance from the University of Southern California. She taught at Montana State University for two years. Subsequently she and her husband moved to Germany, where they lived for eight years, teaching and touring internationally. Kathryn resides in Sedona, Arizona, co-directs the Western Slope Concert Series, and is a founding member pianist and music arranger in the cross-over Celtic band FEAST, which has toured nationally with great success and has been featured on PBS. She is founding member of Il Divo Colorado, and is staff piano accompanist at Northern Arizona University. Her special crusade is promoting the DS 5.5 small keyboard, made especially for small hands. She performs regularly on the keyboard, which fits into her Yamaha grand piano.
Andrew Krimm, Executive Director
Andrew Krimm began studying viola at the age of 7 in Dallas, Texas. In 2006, he began Bachelor of Music degree at the University of Colorado Boulder, studying with Erika Eckert and Geraldine Walther. In 2011, Mr. Krimm returned to Dallas to pursue a Performer's Diploma at Southern Methodist University where he studied with Ellen Rose. While in attendance, Andrew co-founded the award-winning string quartet, Altius Quartet. During their residency at SMU, Altius Quartet won first prize at the Coltman Chamber Music Competition, first prize at the Plowman Chamber Music Competition, and was awarded the Silver Medal at the Fischoff National Chamber Music Competition.
In the Fall of 2015, Mr. Krimm moved to Boulder to study with the world renowned Takacs Quartet. The Altius Quartet was awarded a three-year residency at CU-Boulder to guide the quartet through the creative and business aspects of having a successful career as a string quartet. In 2016 with the Altius Quartet, Mr. Krimm made his Carnegie Hall debut and was also awarded management with Classic ALIVE Artists.
The Altius Quartet recently completed two albums. The first was released in April 2017 featuring a mash up of many different genres including Haydn, Bolcom, a-ha, and Dave Brubeck. The second, to be released in October 2017, features Shostakovich's "Personal Quartets" Nos. 7, 8, and, 9. Both discs are being released by PARMA Recordings.
Currently Mr. Krimm lives in Denver, Colorado with his wife, violist Stephanie Mientka and their cat, Gus. Andrew is the most outrageous, most obsessive, and at times the most heart broken Dallas Cowboys fan in the world.
Lylamae Chedsey, Operations Manager
Lylamae Chedsey joined the Western Slope Concert Series team by default, first as just a concert attendee, then as a board member. Within a few years I was helping set up the early programs that had a multitude of ads, then adding the ads in the papers and web site to the duties. I have also been a member of the board off and on. One of my present and favorite "hats" is running the house for the Grand Junction concerts. Outside of the concert, I am an artist and seamstress, the Irish dancers costumes for many of the Feast concerts are my creations. As an artist, my love is working with clay. I have a couple mosaic tile installations in Grand Junction, one at Duck Pond Park, located on the new restroom facilities, over the door in the between the rooms. Then other was installed in 2010 at Nisley Elementary school on the south east facing outside wall. The sculpture in my photo was taken at an invitation only sculpture show in Aspen for Colorado arts only. I was one of 25 who were accepted into the show.